A new age for compact sports cars as Mazda unveiled their Iconic SP concept car at the Tokyo Motability Show last month, this sports car is noticeably bigger than its Roadster model and is powered by a hybrid rotary-engined set-up.
This car was designed with customers in mind, and the reason the exterior body colour is "viola red" is due to the fact that Mazda desire to "cherish the colour red", which also helps this concept model stand out from the crowd.
The Mazda Iconic SP is very similar to the Mazda RX7 but just a modernised version. The car has true sports car features with its long sloping bonnet and headlights which are barely visible due to the body colour, this gives the car a sleek and contemporary look. The iconic SP also has a very cool feature and is personally one of our favourites and that is the doors that open upwards which enhances the sporty feel of the car, this concept also has chunky side skirts.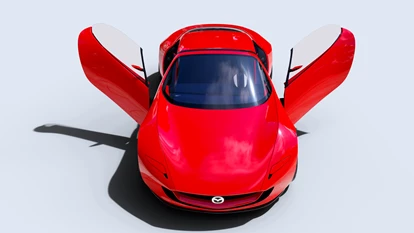 Mazda didn't disclose a lot of information about the Iconic SP however, the automaker did mention the concept's primary specifications included the overall length, width, and height in millimetres was 4,180 x 1,850 x 1,150, and that the overall weight of the car was 1,450kg.
The Iconic SP has a twin-rotor-rotary EV system which enables the concept model to have a low centre of gravity which helps improve its driving performance. The rotary engine can also burn fuels such as hydrogen, which generates electricity with carbon-neutral fuel. In addition to this, the powertrain also pumps out 365 horsepower, which in fact makes the sports car fairly quick.
The interior of this concept car is minimalistic as it includes a typewriter-key gear selector, a small infotainment display, a simplistic cabin, and even a body-coloured flash that flashes across the doors. Despite its simplistic interior design, the car is very luxurious both on the outside and the inside.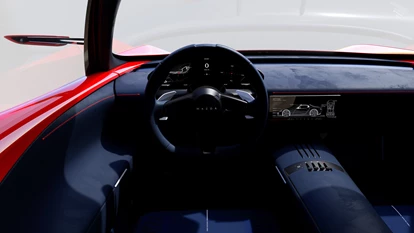 Overall, the Japanese automaker known for producing stylish and reliable Mazda vehicles has produced a fantastic concept car, being a concept car, we might have to wait a while until it's in production but until then the MX-5 is a great alternative for people who are looking to buy/lease a Mazda.
If you're interested in leasing a Mazda or any other vehicle, please go to our website and check out some of the incredible deals we have available at the moment.
Top Mazda Lease Deals: Find Your Perfect Ride
Unveiling the Best Mazda Lease Deals – Don't Miss Out!